April 20, 2016
>STRENGTHENING ITS PRESENCE IN OVER 110 MARKETS GLOBALLY
20 April 2016––Ornua, Ireland's largest exporter of Irish dairy products, today, Wednesday, 20 April 2016, published a review of its 2015 operational and financial performance.  Ornua delivered a strong performance in terms of both revenue generation and new business development, enabling the Company to deliver new routes to market for Irish dairy products.
By building routes to market for Irish dairy products, Ornua works to increase the value of Irish milk, and in doing so, delivers strong returns to the c.14,000 farmers it represents.
2015 Highlights
Key Performance Indicators
2015 

€ million

2014

€ million

Year-on-Year change
Turnover
2,543.4
2,339.8
9%
Group EBITDA*
58.8
49.7
18%
Annual Members Bonus
14.0
12.0
17%
Special Members Bonus
15.0
–
–
Net Assets
526.4
434.7
21%
*Before exceptional items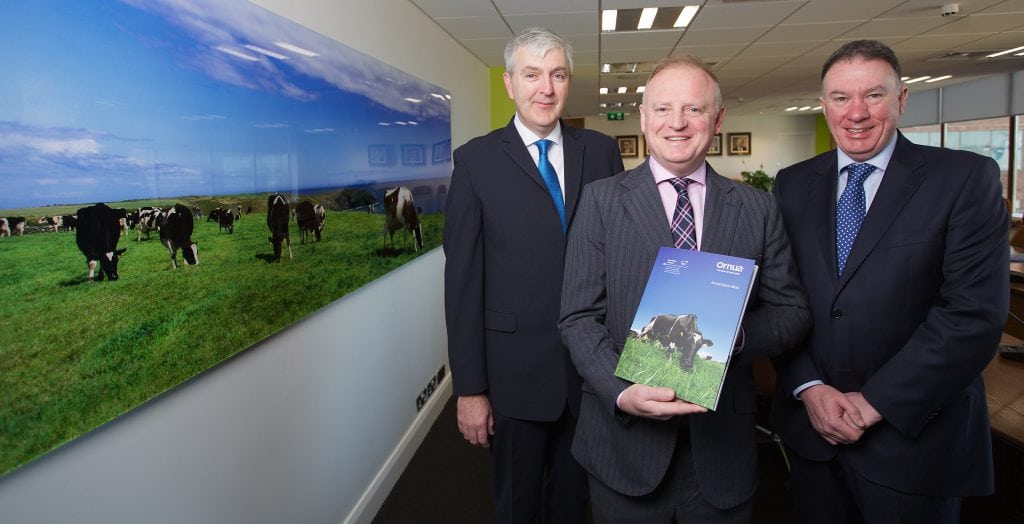 Commenting, Kevin Lane, CEO of Ornua said:
"We are very pleased to report a solid 2015 performance across our Foods and Ingredients businesses.  In the first year following the removal of EU milk quotas and the first year of the Ornua identity, we have delivered growth in existing and new markets.  We are confident that, whilst recognising the challenging market conditions that exist, our business will continue to deliver strong returns and growth thereby enhancing value for the farmers we represent."
Financial Performance
Ornua delivered a strong financial performance in 2015, with significant increases in Profit and Turnover. Group EBITDA* increased by 18% to €58.8 million.  This result includes a €9 million increase in brand and market development investment which now totals €45 million, and significant product price support to its members.  Group Turnover increased by 9% to €2.5 billion.  The Group closed the year with net debt of €17 million and a very strong Balance Sheet with net assets of €526 million, up 21% on prior year.
Product purchases from members rose by 16% in 2015, to a record 286,000mt.  This reflects the impact of Ornua's work in opening new routes to market for Irish dairy products and the delivery of strong product price returns.
Reflecting this strong performance, a €14 million annual bonus, up 17% on 2014, was declared to Ornua's members, including a cash element of €10 million.  An additional special cash bonus of €15 million was declared from the gain on the disposal of a majority stake in Ornua's US distribution business, DPI Specialty Foods, in late 2015.  This brings the total bonus for the period to €29 million.
Market Comment
2015 was a challenging year across the world's major dairy-producing regions.  A combination of strong supply and demand weakness led to a fall in global prices.  Globally, milk supply grew by over 5% over the January 2014 to December 2015 period while demand only grew by 3%.  Consequently stocks have built and prices have weakened.  There is an urgent need for global supply constraint and any recovery of demand will be dependent on the Chinese economy, improved oil prices and the lifting of the Russian ban.
Key Operational Highlights
Unveiling of new identity, Ornua – The Home of Irish Dairy, delivered a clear statement about the Group's ambition to grow as a leading global dairy organisation
Excellent brand performance

Kerrygold's retail sales reached a record c. €740 million
Record volumes in Germany –No.1 butter brand
Record US Kerrygold sales volumes – No. 3 branded butter
Record market share for Pilgrims Choice – No. 2 cheddar brand
Launch of foodservice brand, Palatina to EU, US & Middle Eastern markets
Record level of purchases from members, 286,000mt, up 16%
Strengthening of global infrastructure – enhancing teams in China, Middle East & Africa – 45 new people placed in-market
Successful disposal of majority stake in US distribution business, DPI Specialty Foods.  This yielded significant proceeds for the business, some of which will be invested into opening new routes to market for Irish dairy. The balance will facilitate the payment of a special cash bonus to members of €15 million in April 2016
Strengthening its foothold in Africa, Ornua Africa opened a new Kerrygold powder packing facility in Lagos, Nigeria
>Acquisition of Shanghai-based dairy manufacturer, Ambrosia Dairy
Construction of Kerrygold Park – a state-of-the-art butter production & packaging facility in Co. Cork. The facility will ensure a world-class supply chain to meet the evolving needs of Kerrygold customers around the world
Ornua Milk Levy
In recognition of the on-farm challenges currently experienced by Irish dairy farming families, due to the global dairy market downturn, the Ornua Board is suspending the monthly Ornua milk levy from 1st May 2016.  Through the milk levy, Irish dairy farmers directly contribute to the Kerrygold brand and the marketing development of Irish dairy products in over 110 countries.  Notwithstanding the levy's important contribution to Ornua, it is hoped that the suspension will go some way towards supporting farming families at this difficult time.
Looking Forward
Ornua has, over the last five years, delivered a Business Transformation Strategy which has prepared the business for the expansion in Irish dairy output.  The Group has invested in new facilities, upgraded existing factories, acquired new businesses, invested heavily in research and development capability, invested in new staff, upskilled existing teams and enhanced its management structure.  The outcome is a leaner, more agile business with a stronger foothold in more global markets.
Visit the Annual Report site here