September 14, 2023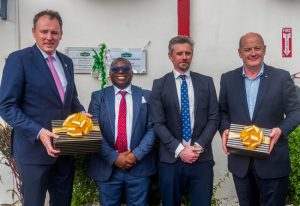 Ornua was delighted to this week welcome Minister for Agriculture, Food and the Marine, Charlie McConalogue and colleagues from the Department, along with Ambassador of Ireland to Nigeria, Peter Ryan, and representatives from Bord Bia to meet the Ornua team at our facility in Lagos, Nigeria.
The visit, which is part of a trade mission to West Africa, coincides with Ornua's tenth year of trade in Nigeria in partnership with AAVA (formerly Far East Mercantile). During that time Nigeria has become a key strategic market for Kerrygold products with 10 million units of Kerrygold Avantage milk powder sold in the market each month.
Barry Newman, Regional Head of Ornua Africa said: "Nigeria is currently the largest economy in Africa and on a strong growth trajectory. Demand for nutritious dairy is growing in the market and Ornua recognises the role for quality, sustainably-produced Irish dairy products in addition to the growth opportunity this represents for Irish dairy farmers.
Key to our ambition for growth are the strong relationships we have developed over the past decade with our local partners AAVA, and strategic investment in our distribution network, production capacity and in-market talent.
We are very proud that our facility in Lagos directly employs 100 people in Nigeria, including a locally-led leadership team, and provides non direct employment to 450 people through distribution activities across Africa."