April 28, 2023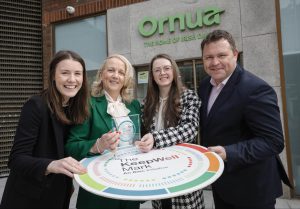 Ornua becomes the first dairy company to achieve the accreditation which supports companies to embrace corporate wellness
Ornua is delighted to have received the Ibec KeepWell Mark, an accreditation designed to acknowledge and celebrate companies at the forefront in promoting corporate wellness within company policy.
Ahead of National Workplace Wellbeing Day on April 28th, Ornua was also named in the Leading in Wellbeing Top 100 Companies Index. The Index, which was first established in 2021, and is published by Ibec in partnership with Business & Finance, recognises companies that are focused on implementing meaningful initiatives that support the wellbeing of their employees.
As a co-operative, Ornua places huge emphasis on our partnerships, and our people, recognising that both are key to the delivery of our business strategy and creating value for our Member Co-operatives. We are committed to being a leading, accredited employer of choice that retains and attracts top talent, allowing the organisation to maximise impact in the communities in which we operate.
Fostering a workplace environment in which colleagues can bring their whole selves to work is central to Ornua's Talent strategy, which prioritises enhanced wellbeing and work-life balance, through family focused policies, and a range of employee engagement initiatives through our Spring Wellbeing programme.
Majella Darcy, Chief People Officer at Ornua, commented; "Today marks National Workplace Wellbeing day, which spotlights the importance of corporate wellness in driving success for employers and their employees. At Ornua, we recognise that a positive, healthy and connected work environment is one where we can all thrive together, and we are committed to ensuring our workplace is supportive of the people who drive our business forward.
We are proud to have received Ibec's KeepWell Mark, and to have been named among the leading employers in wellbeing, indicating the meaningful progress the business is making in cultivating a healthy and rewarding working environment for all."
The Ibec KeepWell accreditation provides a framework for companies that includes a set of standards, which are achieved through the promotion of wellbeing within the workplace. The framework is comprised of three sections: Commitment, Achievement and Excellence, and focuses on the eight pillars of wellbeing, ranging from leadership, mental health, health and safety and absence management to physical activity and healthy eating.
Following a rigorous and in-depth assessment, which includes a self-assessment carried out by the organisation, a site visit and external assessment, organisations receive a comprehensive analysis which includes detailed recommendations designed to guide businesses on a journey to improvement across all areas of employee health and wellbeing.
For more information on career opportunities at Ornua, please visit: https://www.ornua.com/working-at-ornua/