May 11, 2023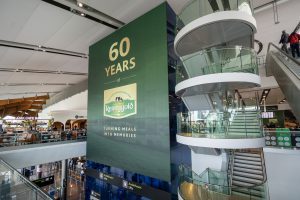 Kerrygold, Ireland's first billion-euro food brand, is marking six decades of success with a new creative campaign to celebrate the brand's rich history of bringing people together.
The campaign was launched across Dublin International Airport this week, at key Arrivals and Departures locations such as Passport Control, the Skybridge, and Arrival doors. Showcasing spectacular imagery of mouth-watering Kerrygold-inspired meals, the campaign aims to capture the hearts and minds of consumers, including domestic and international travellers, who have been a part of the brand's 60-year success story.
The campaign will also be brought to life online and in-store across POS, supported by a sampling roadshow across a range of retail locations such as SuperValu, Dunnes Stores and M&S in Dundrum, Blanchardstown, Swords, Liffey Valley, and Heuston Station.
Róisín Hennerty, Managing Director, Ornua Foods Global said: "It is wonderful to be able to celebrate the rich history of one of Ireland's most beloved and iconic food brands, which has made its way to homes all around the world. Kerrygold's success is testament to the generations of Irish dairy farming families who produce world-class milk as well as Ornua's Member Co-operatives and teams, who over the last 60 years, have proudly brought the taste of Kerrygold to the world. It is fitting that we can mark this significant milestone for our world-famous brand here at home where the journey began."  
Dublin Airport has welcomed record visitor numbers since the beginning of the year with 6.65 million passengers passing through the airport, making it the perfect location to bring Kerrygold's 60-year success story 'back home.'
Since originally launching in the UK just over 60 years ago, Kerrygold has expanded its reach across international markets, bringing the unique and superior taste of Irish grass-fed dairy to consumers around the world. In 2022, Kerrygold maintained strong volume sales growth globally, with over 11 million packets of butter and cheese sold globally each week.
Kerrygold is Germany's most popular dairy brand with almost two-thirds of German households purchasing Kerrygold products in the year; while in the US, Kerrygold butter experienced continued volume sales growth, where it holds the number 2 position in the category.
Key to the brand's future is the expansion of the global home of Kerrygold – Kerrygold Park – which will be completed this year and see the Cork-based facility double its production capacity to match growing global demand.