January 9, 2017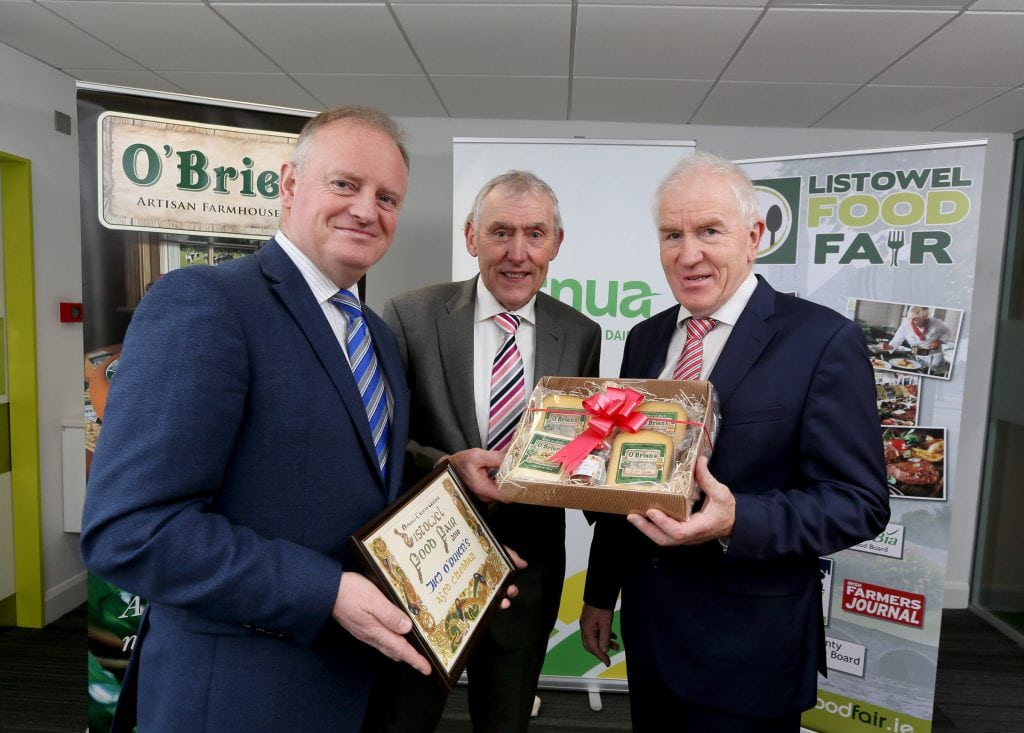 Aged cheddar produced by Jim O'Brien, of Limerick-based O'Brien's Artisan Farmhouse Cheese, has won the "2016 Listowel Food Fair National Kerrygold Cheese Competition", at the 22nd annual Listowel Food Fair awards, in association with Ornua. The award was presented to Jim O'Brien, by Kevin Lane, CEO, Ornua, at Ornua's headquarters in Dublin on the 21st of December. Ornua is Ireland's largest exporter of Irish dairy products, exporting to over 110 countries worldwide, and is the owner of the Kerrygold brand.
During the tough years of the recession, Jim O'Brien decided to make cheese, and O'Brien's Artisan Farmhouse Cheese was created. Jim's son, John, had immigrated to Australia for employment, and the O'Brien family began to look at ways to create an opportunity to bring John home to work on the family farm. They wanted to add value to their existing milk business and create another full time job for a John, producing artisan cheese.
Jim has been working in dairy farming for 40 years, and the long years of perfecting his recipe and months spent waiting with an artisan's patience for his wheels of cheese to ripen to perfection have made O'Brien's cheeses some of the best in the country.
Commenting on his win, Jim O'Brien, O'Brien's Artisan Farmhouse Cheese, said:
"I am totally amazed at how quickly my cheese has been recognised nationally. I have been a great admirer of all the Irish artisan cheese producers over the past twenty years. The high quality of artisan cheese produced in Ireland inspired me to make my own cheese. I would like to thank the judges and the Listowel Food Fair festival committee for selecting my aged cheddar as this year's winner. We are the only farming business in County Limerick that produces cheese from the milk of our own dairy herd. This award will enable us to increase market opportunities and garner further brand awareness on a national level for our aged cheddar and other cheese products."
Kevin Lane, Chief Executive Officer, Ornua commented:
"Ornua and Kerrygold are delighted to be associated with the 2016 Listowel Food Fair, which we recognise to be a long-standing and prestigious festival. We are delighted that such a premium cheese from Jim O'Brien of O'Brien's Artisan Farmhouse Cheese has won the 2016 Listowel Food Fair National Kerrygold Cheese Competition. It is fantastic to see cheese of such a high quality and calibre being produced by a local Irish farm. We would like to congratulate Jim O'Brien and O'Brien's Artisan Farmhouse Cheese and wish him continued success."
The Listowel Food Fair was originally developed and organised by then local TD and former Minister Jimmy Deenihan, along with Johanna Watkins, Sheila Broderick, John O'Connor, Ella O'Sullivan, Frank Pierse and Brid McElligott. Now in its 22nd year, the event has grown in prestige and is firmly established as one of the premier food fairs in the Irish calendar.