May 19, 2023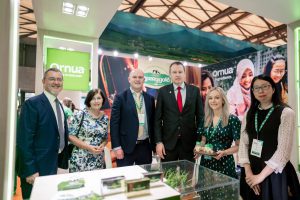 Ornua, Ireland's largest exporter of dairy products, has this week returned to SIAL Shanghai, China's premier food and drink trade showcase.
The three-day event, which takes place for the first time since the onset of the Covid-19 pandemic over three years ago, will welcome approximately 150,000 visitors from across the global food and beverage industry.
Over the last 15 years, Ornua has grown its presence in China, through the continued expansion of the Kerrygold range of butter and cheese products, while also continuing to innovate and diversify its B2B dairy ingredients offering, tailored for customer partners in the quick-service restaurant (QSR) industry, through the Ornua Ingredients global business.
China has the fastest-growing foodservice market in Asia, which is expected to reach over €800 billion in the next four years. While this outlook has recently been positively impacted following the lifting of all remaining Covid-19 restrictions, the growth potential of the foodservice sector is underpinned by a range of economic factors including the growth of an ageing population as well as increased spending power of younger consumers.
The pizza market in China, in particular – expected to be worth approximately €9 billion by 2025 – represents a major growth opportunity for Ornua, which specialises in the development of a variety of bespoke pizza cheese, cheese sauces, and appetisers. Through its global scale, innovation capacity, and existing partner relationships with some of the world's best-known brands, Ornua Ingredients is well placed to strengthen its position as a key player in the market over the coming years. Ornua's range of pizza cheese products, which are made in Europe, using some specific Irish ingredients supplied by Ornua's Member Co-operatives, will be showcased to delegates from across China and other Asian markets at SIAL this week.
Seamus Greene, Managing Director, Ornua Ingredients Ireland said: "We are excited to be exhibiting at SIAL Shanghai, where visitors can experience and learn more about our world-class portfolio of branded products, including the Kerrygold range, alongside our cutting-edge dairy ingredients offering for foodservice and quick-service restaurant (QSR) customers.
The QSR sector in China, and indeed across Asian markets, is experiencing phenomenal growth, representing a significant opportunity for the Ornua Global Ingredients business, and in turn the Ornua Group, our members, and the farming families who produce the dairy products we market.
Recognising this opportunity, we have focused on building strong, collaborative relationships with our B2B customer partners in the QSR sector, leveraging our global scale and enhancing our capabilities to produce great-tasting cheese solutions that are functional and meet evolving consumer needs. Our team are looking forward to showcasing these products at SIAL this week, meeting with our existing customers, and making new connections in this very important market."
With 899 million consumers, China is home to the largest consumer population in the world. The country's rapid economic growth, and the continuous improvement of living standards and income levels, has resulted in an increasing demand for high quality and accessible products. This is contributing to major growth in the foodservice sector, while overall dairy consumption per capita is also on the rise, representing a significant growth opportunity for Ornua and Irish dairy in the coming years.