Ornua Deutschland is responsible for the packing, distribution, sales and marketing of Ornua products including butter, butter spreads, cheese and yogurts to all leading retailers in Germany and Austria.
Ornua Deutschland's head office and packing facility is located in Neukirchen-Vluyn, Dusseldorf. It recently completed its third expansion which expanded the production and storage facilities in addition to developing enhanced office space to facilitate the growing popularity of the Kerrygold brand in Germany.
Kerrygold is the No. 1 butter brand in Germany, selling 100's of million packets each year and is the brand leader for butter, spreads and cheddar cheese. Ornua recently launched Kerrygold Yogurts in the German market and the new category benefited from strong brand awareness and a loyal customer base.
Synonymous with Ireland, the Kerrygold brand is listed in the Top 10 of all Fast-Moving Consumer Goods (FMCG) products in Germany – so popular with the locals, it has a street named after it; 'Kerrygold Strasse'!
Kerrygold Butter
Kerrygold Butter, made from the milk of grass-fed cows, is the No. 1 butter brand in Germany and is available in salted, unsalted and spreadable formats.
Explore
Kerrygold Cheese
Kerrygold Cheese is the leading cheddar brand in the market and comes in a variety of formats, including blocks, slices, grated and cubes and a variety of flavours including Kerrygold Cheddar, Kerrygold Mature Cheddar, Kerrygold Vintage Cheddar, Kerrygold Dubliner and more.
Explore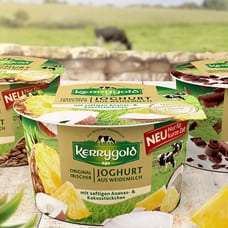 Kerrygold Yogurts
Kerrygold Yogurts are rich, creamy yogurts that get their distinct creamy flavour from the milk of grass-fed cows.
Explore
Ornua Deutschland GmbH
Kerrygoldstraße 1,
47506 Neukirchen-Vluyn
Germany
T: +49 28 41 88 80 0
E: info@kerrygold.de