Explore the Pilgrim's Choice Brand
For almost 30 years Pilgrims Choice has championed cheese with a difference. Pilgrims Choice is our premium cheese brand from "The Choosiest Cheese Company". A range of cheddars hand selected by our cheese experts from farms and creameries across the world. Working with a small group of quality cheesemakers, our cheese experts are free to select only the very best for our customers.
Our cheese experts never compromise on flavour, consistency or taste. Touching, feeling, smelling and tasting each batch to ensure only the best cheese makes our packs. 
Vintage Cheddar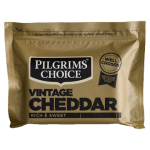 Pilgrims Choice Vintage Cheddar is a crumbly, delicious cheddar with a rich and sweet flavour.
Extra Mature Cheddar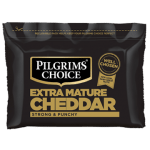 Packed full of powerful flavour, Pilgrims Choice Extra Mature is the perfect everyday cheddar for a slight crunch and a mighty, tasty punch.
Mature Cheddar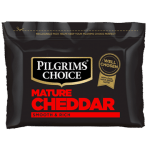 Pilgrims Choice Mature Cheddar is a timeless classic. With a smooth texture and lasting flavour it is undeniably moreish.
Lighter Mature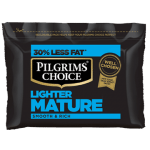 Even with 30% less fat, Pilgrims Choice Lighter Mature is still packed full of smooth, rich and savoury flavour.