October 19, 2022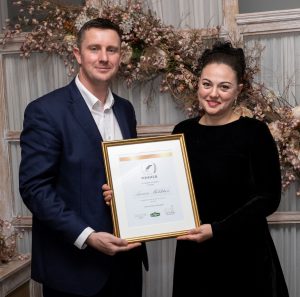 Technological University (TU) Dublin student Anisa Mokhtari has been awarded the Kerrygold-sponsored Culinary Student Award at the 2022 Irish Food Writing Awards.
Following a lengthy selection process and concluding with an intensive live cook-off, Anisa was announced as the winner of the inaugural Culinary Student Award at the gala awards ceremony held in Dublin's Fallon & Byrne last week.
The Culinary Student Award was sponsored by Kerrygold and invited entries from students from across Ireland. Entrants were asked to create two courses featuring Kerrygold Butter, and to submit their recipes to an expert judging panel including Jess Murphy, owner of Kai Restaurant in Galway, and Gar Mullins, Executive Chef at The Marker Hotel. Both judges remarked that the standard of entry was exceptionally high in what is the first year of this new category award.
Three successful entrants were subsequently selected and invited to participate in the final showcase in which they were asked to bring their recipes to life in the kitchen. Judges Jess Murphy and Gar Mullins complimented the talents of all three student finalists, with Gar noting that the standard of some of the dishes was 'Michelin Star' level.
After much deliberation, TU Dublin student Anisa, was announced as the winner of the cook-off and this year's Culinary Student Award. Both judges commented on Anisa's in-depth knowledge of the food she was cooking and noted that it was her consistency across her two dishes that gave her the competitive edge.
Speaking at the Irish Food Writing Awards ceremony, Daniel Kelly, Head of Business Development, Ornua Foods International, who manages the Kerrygold business in Ireland, said: "We are pleased to sponsor the Culinary Student Award at this year's Irish Food Writing Awards, which recognise the creativity and authenticity of Ireland's Food & Beverage community, and the network of talented writers, chefs, and content creators who profile this exciting industry.
With over 11 million packets of butter and cheese sold globally each week, Kerrygold has long been enjoyed by food lovers all over the world and is both trusted and cherished by the culinary community. We're proud of that reputation and indeed of the deep roots we've established with Food creators and writers from across Ireland and internationally, through close collaboration and strong long-standing partnerships.
It therefore gives me great pleasure to congratulate Anisa, deserved winner of the inaugural Culinary Student Award, who embodies the commitment to quality that Irish food is known for and will no doubt go on to inspire and delight food lovers in Ireland and beyond in her future career."
Anisa's award-winning recipe consisted of: Main; Lambay Island Lobster Tail, Fercullen Whiskey, Steamed Sweetcorn, Kales Buds, and Smoked Butter Hollandaise; Dessert; Buttery Irish Oat & Hazelnut Flapjack Shavings, Woodruff Ice Cream, and Crab Apple Curd.
For more information on the Irish Food Writing Awards, see: https://www.irishfoodwritingawards.ie/